Meet "Mister Tiggers"
We think he is about 8 - 9 years old now. About 7 years ago we rescued him from a woman, who rescued him from her friend, who bought him from a breeder for her kids. He was too energetic and clingy for them so he kept in a crate most of the time. That's the worst thing for an ACD. Some dogs do well in crates but ACDs do not. They need lots of attention and excersise.
We were told that he is a full blooded Australian Cattle Dog and is AKC registered. We were never able to get papers from either of the previous owners.
Tigger is the smartest, most clingy, most loyal dog I have ever had the pleasure of knowing. ACDs are sometimes called "velcro dogs" because of the way they are stuck to their owners. I cannot leave a room, rise from a chair, hop out of bed, open a door or even make direct eye contact with him... without him being immediately on his feet and by my side, looking up at me waiting for my next move. He literally sleeps with his eyes half open and his ears on full alert. The second I make a move, his eyes are open, in one smooth motion he's flipped up from a laying position to a standing position and he is r-e-a-d-y to go.
He's just an amazing dog.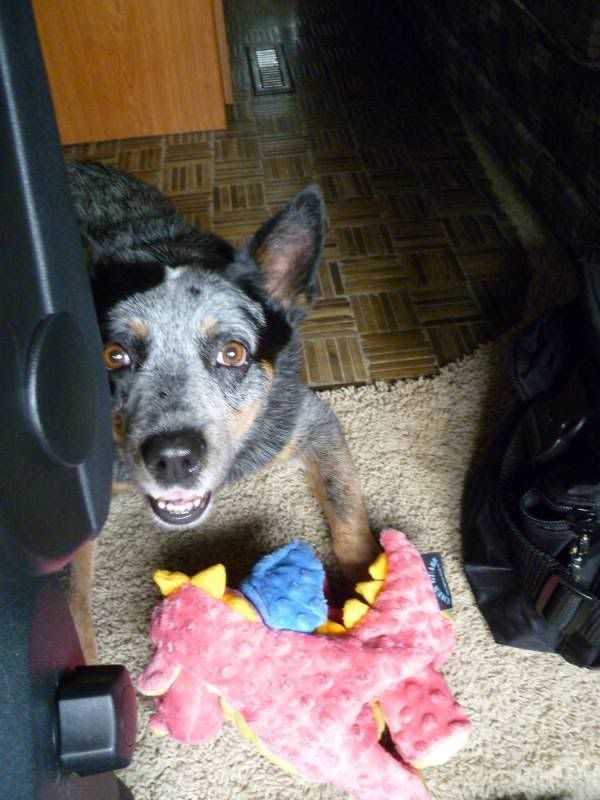 He loves going for rides, any kind of treat, lots of attention, chasing anything with 4 legs and long walks to anywhere.
There is a story behind that pink dinosaur... Herman and I were visiting Maine, doing touristy things in the Old Port section of Portland Maine. We were walking Tigger and happened upon the "
Fetch Dog
" pet store. We went in and had a look around. They have many of the dog toys in baskets near the floor... the perfect height for a dog to see & to pick out a toy completely on their own.
Tigger walked around and looked at most of the toys. For whatever reason, he stuck his head into a basket full of pink dinosaurs and came out with one in his mouth. He LOVES toys that squeek (Herman & I, not so much) and wouldn't ya know it... this one squeeks.
He carried it around the store, squeeking it every 1/4 a second. Everyone got quite a kick out of that. Tigger didn't have any money so we had to buy it for him. He carried that pink dinosaur around the Old Port for the next hour.
If you ever needed a conversation starter, an Australian Cattle Dog carrying a squeeky, pink dinosaur will work just fine.
He lives quite the pampered life when RVing!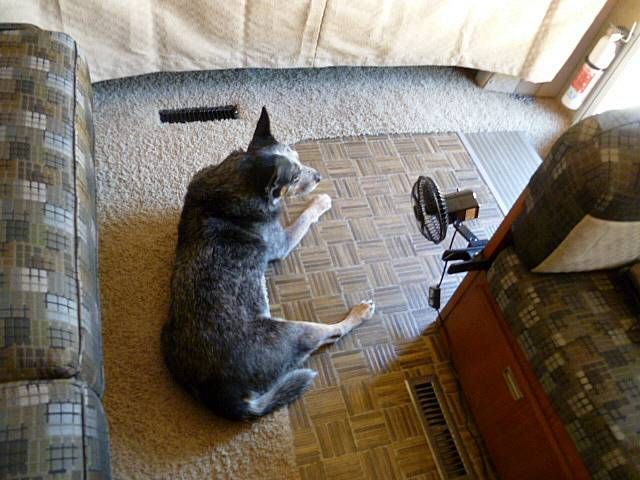 Tigger is living the life!!!