No, not this type of toad...
This type of "towed"... (aka - toad).
This is NOT our View or toad. I found this picture on the internet.
Many RVers tow a vehicle behind their RV. This allows them to set up camp but still have a vehicle to get around in should they want to go explore or run errands. RVers call their towed vehicles "toads".
I have seen "toads" being hauled behind Winnebago Views (see above picture). I have to assume that the MPG and performance (accelerating & braking) of the RV would suffer significantly when towing a 2000+ lb vehicle. Driving an 11,000 lb. home on wheels is already expensive enough (we get roughly 13mpg)!
For that reason, I choose to carry a small Honda scooter on a scooter carrier in the Views rear 2" receiver hitch. The receiver hitch has a tongue weight limit of 300 lbs. Some View owners say the hitch will hold 500 lbs. I am not interested in pushing the hitch limits. I use a
1987 Honda Elite 150
(stripped to its bare bones weighs about 190 lbs) and a
MOTOTOTE
carrier (weighs 63 lbs).
This little scooter is easily loaded and unloaded on the carrier by just one person using the short wood ramp. The Elite 150 is a comfortable. fairly fast (65+mph downhill), super reliable and economical (75-80 mpg) mode of transportation. I bought it used about 3 years ago for $600. It only had 600 miles on it. It needed some work and cleaning so I got a great deal on it. Realistically, expect to pay $1000 - $1500 for a good running, low mileage example.
My Elite looked like this after I had finished tinkering on it and cleaning it.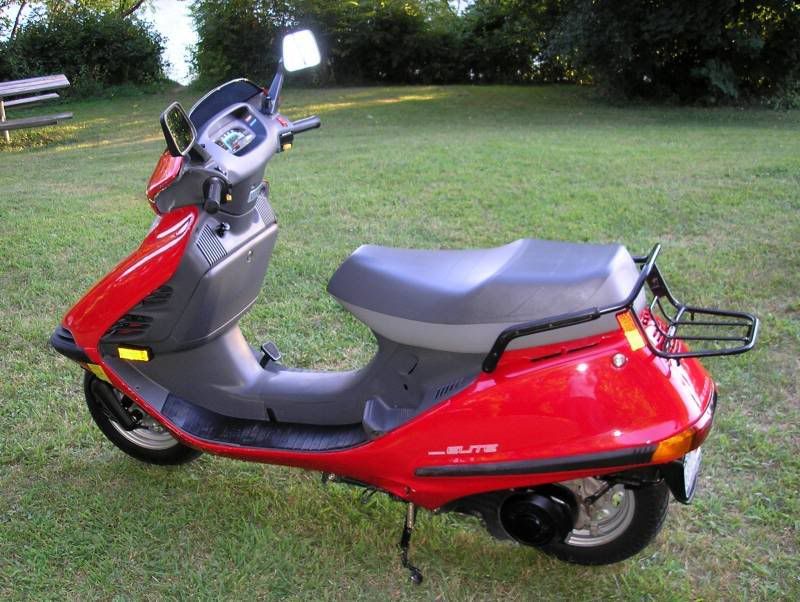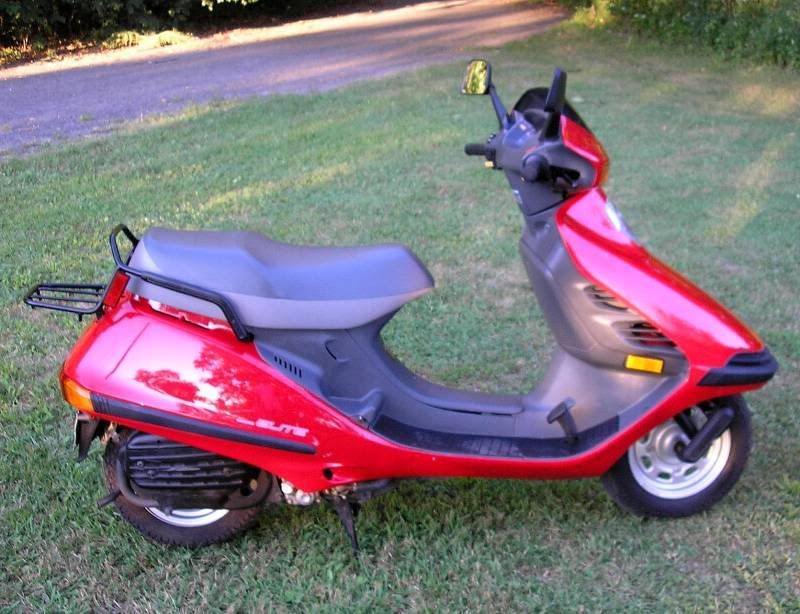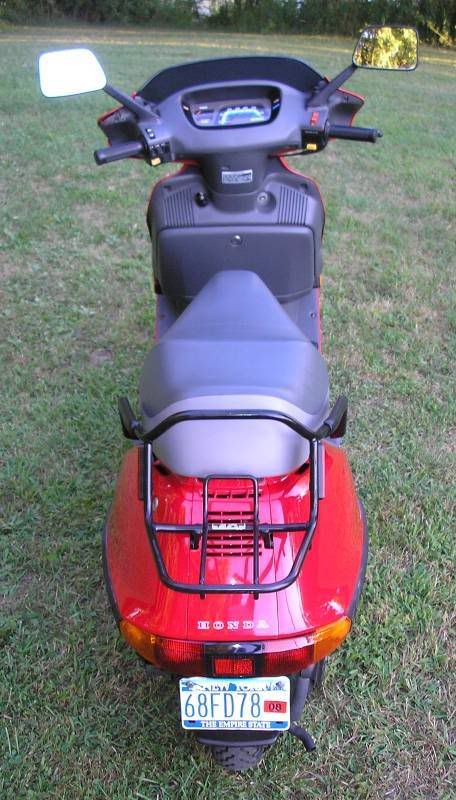 Last summer, I got lazy and wasn't using the U-lock on the front wheel when parking it. I engaged the steering lock and left it parked on the street in front of our home. I never thought anyone would steal a scooter?! I noticed it was gone when I went to use it one day. In its place was a punched out ignition cover laying on the ground.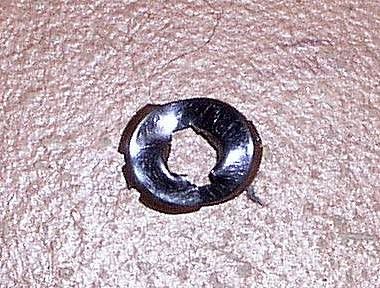 I guess it's pretty easy to take a screw driver and a hammer to any motorcycle or scooter ignition and smash it out. A thief can then use a screw driver instead of the ignition key to start and ride the bike as if it were his own.
After 8 months I had basically written the scooter off. I didn't think I'd ever see it again. Then one day I got a letter in the mail telling me the local police had recovered it. They caught the dirtbag riding it around town 1/4 mile from our house. The scooter was "evidence" in the case so it took a while before they would release it to me. When I went to the impound lot to pick it up I was amazed at how beat up the scooter was.
This is what it looked like when I got it home.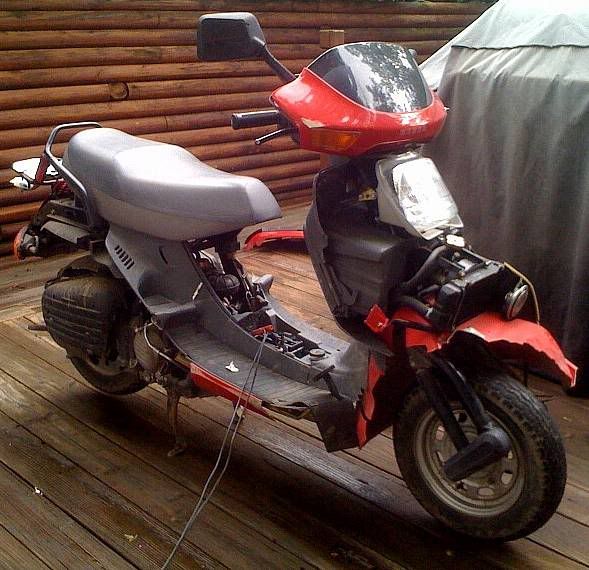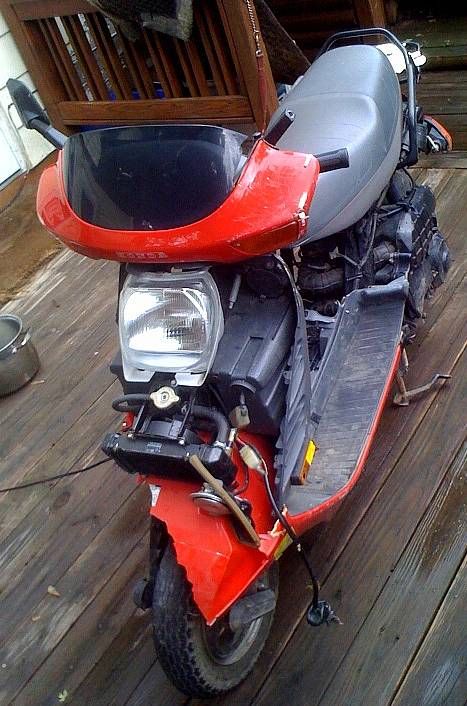 The thieve/s had ridden it roughly 300 miles (mostly offroad).
Rather than try to bring it back to new condition, I started removing all the broken pieces...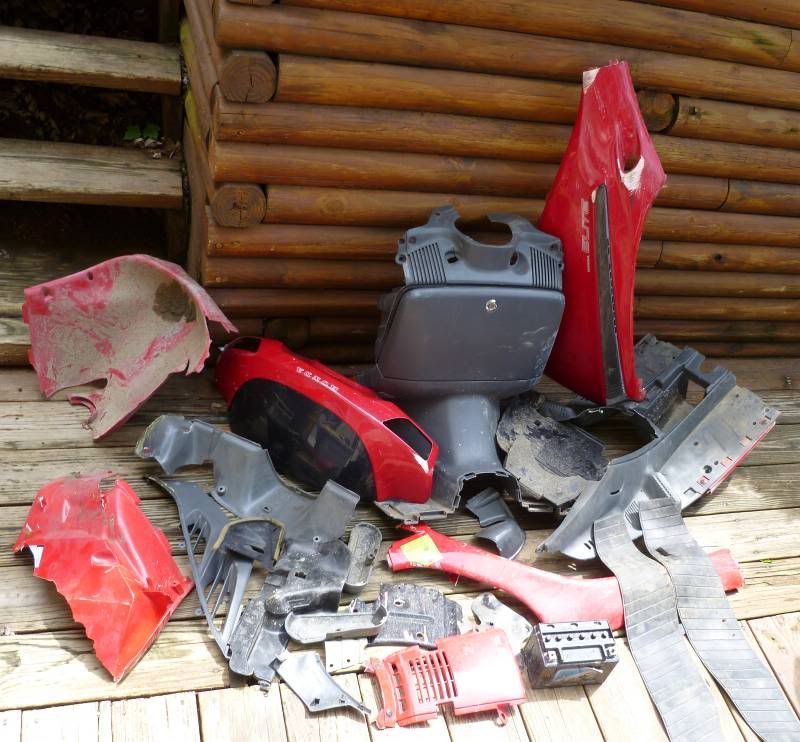 I thnk I stripped about 30 - 40 lbs of parts off it. I ended up with this...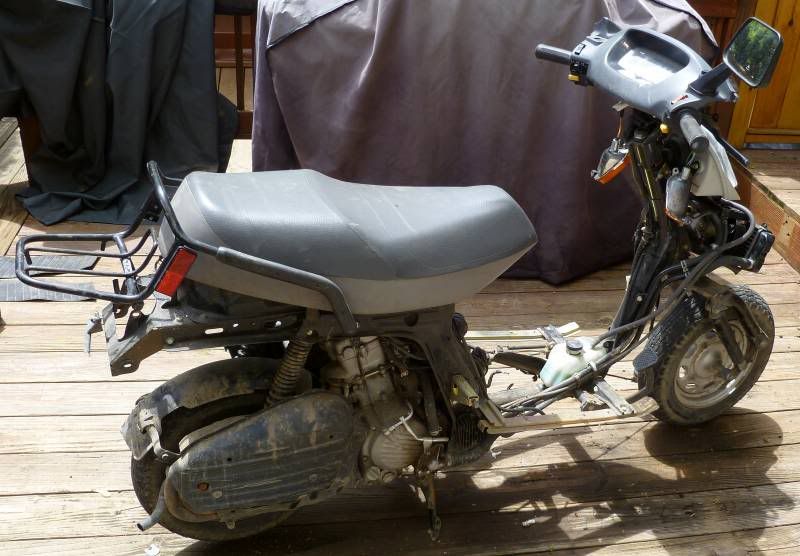 I cleaned it up...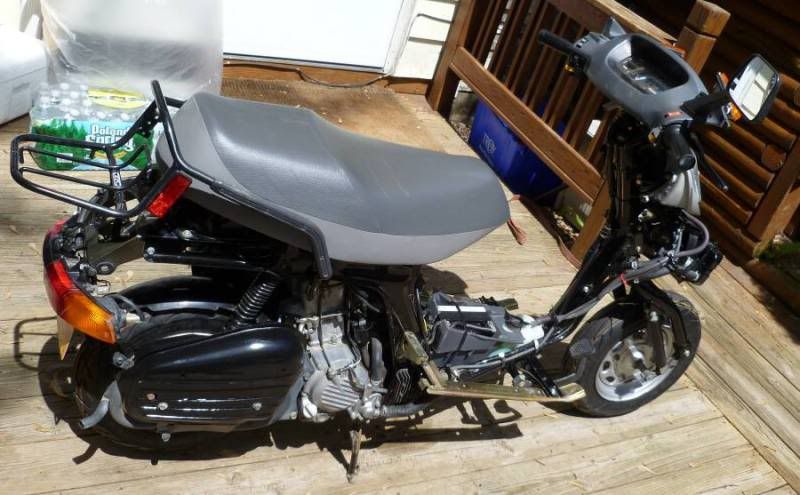 ...added some side bags and a trunk.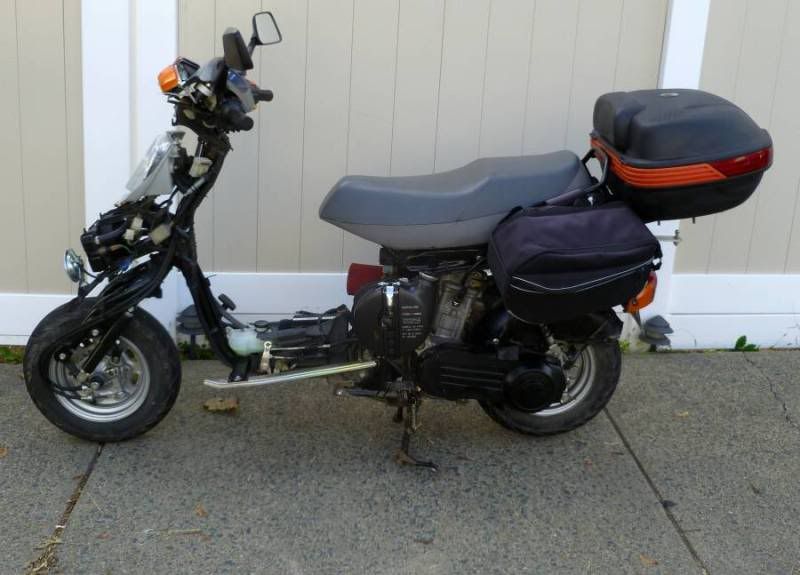 ...mounted the turn signals to the dashboard plastic with zip ties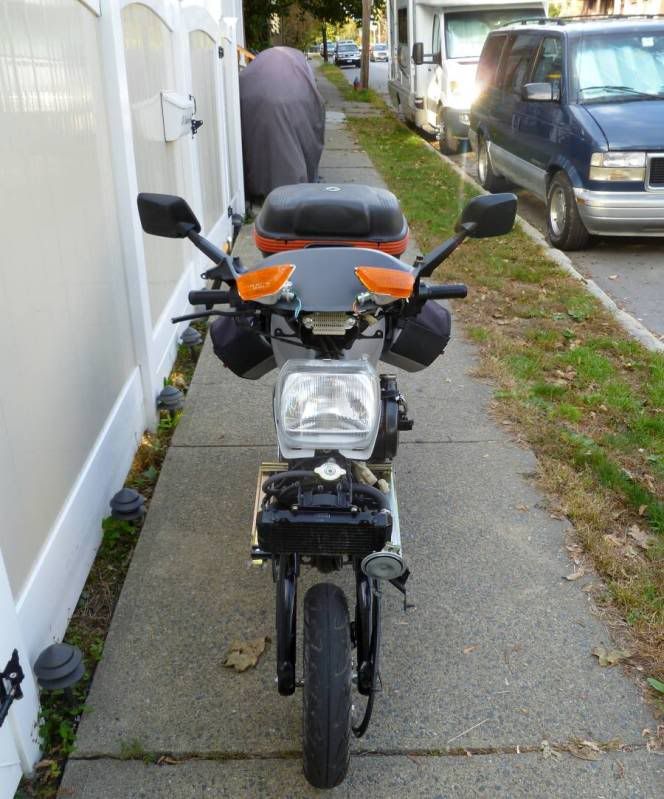 2400 miles. I ride this scooter almost every day. It's perfect for running errands around town. I'll even jump on the highway on occassion. It's not the best highway cruiser though!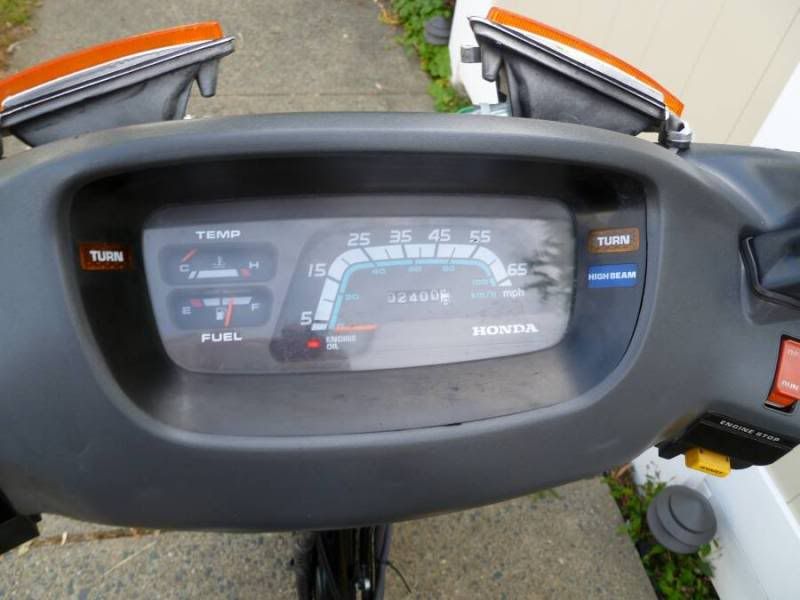 Troy NY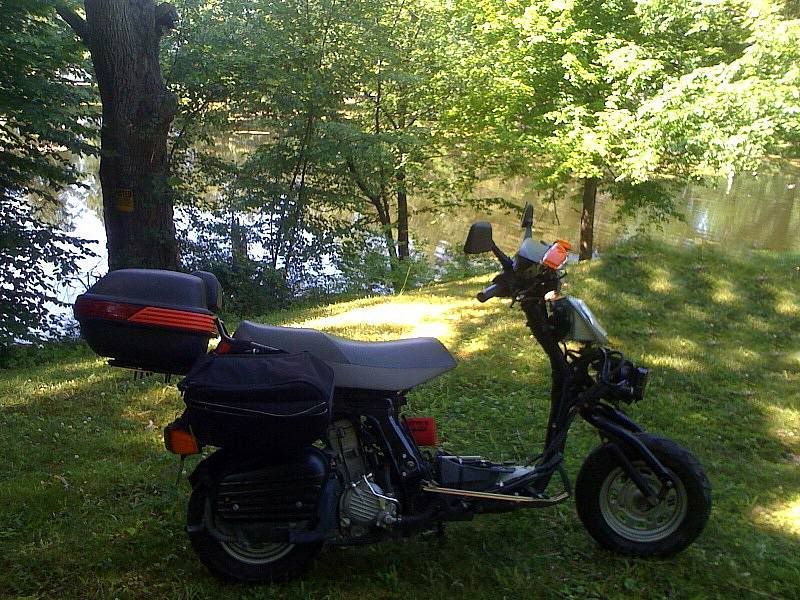 It runs awesome (like it always did) and now it's faster and handles better, because it's lighter. I actually like riding it more now than before. Maybe I should thank the thief? I'd get more satisfaction out of knocking him into next week though. >:-)